SO, I am off down to London in October to see Totoro the play! I cant even tell you how excited I am. I adore Miyazaki, and totoro is one of my favourite studio Ghibli films, next to Kiki's delivery service and Pom Poko .

I have decided I need a jumper to wear that is totoro themed , will I look like a huge nerd, yes, do I have a hundred WIPS already, yes, does it give me an excuse to buy yam, yes, will I need to design something myself, yes.

But I'm gonna do it, and I'm gonna be the coolest chic in the place.
I did a wee search on Pinterest and Rav and honestly nothing was tickling my pickle, but let me show you my train of thought cause who doesn't love looking at knitting patterns.

None of these pictures will link to Ravelry.
First up I adore the yoke on this cardi, and I know my friend Eloise used Kate Davies paper doll pattern to adapt and make something with a similar yoke. But honestly its just not what I'm after at the moment. Maybe in the future however.
I adore this, and I will 100% be making something like this in the future, but its more sitting in a log cabin with a fire and hot chocolate, not off to the theatre. right?
knitted bliss

I actually adore this jumper and its sitting at a close second, I think it would suit the style of clothes I wear and its subtle, I mean is a totoro head subtle? maybe simple is what I'm thinking.
madamedefargeknits

I was all set on the previous jumper until i saw this, and something in my wee heart went YES! not this exact jumper, but I'm going to use a cropped jumper pattern and put the totoro belly on the belly of the jumper.
And I know I was looking for something simple and subtle, but come on, it would look very cool.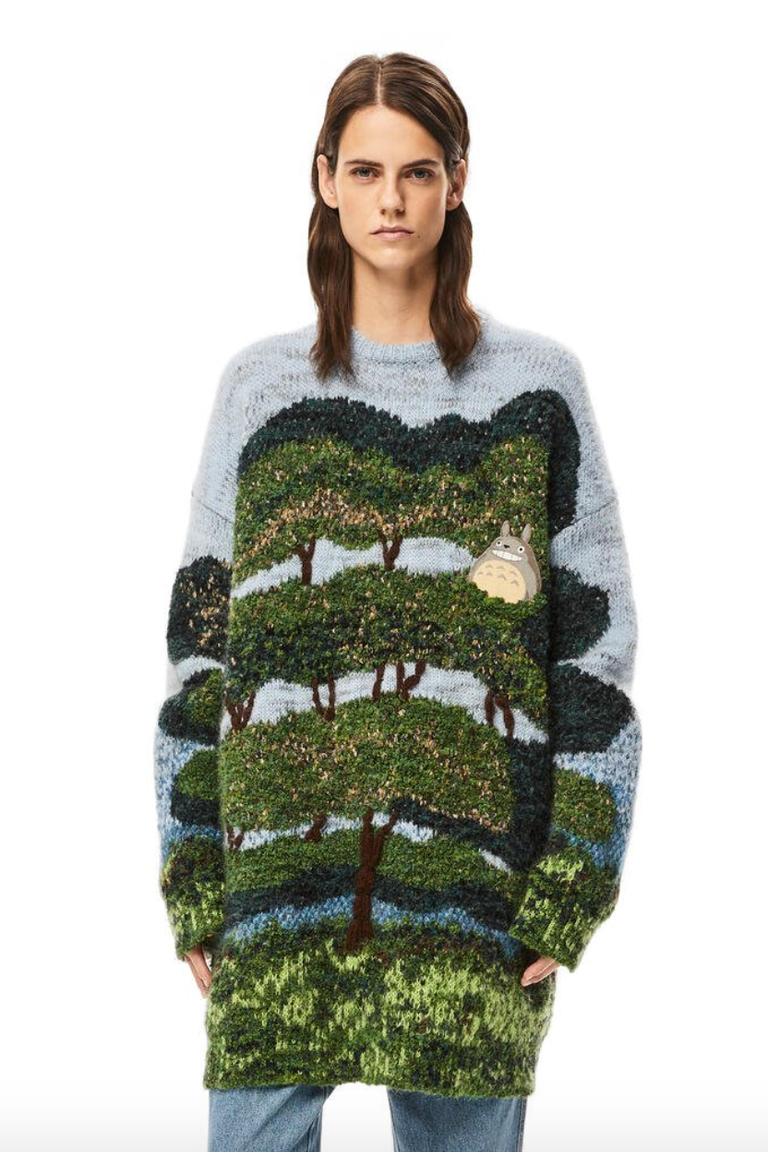 Loewe
Before I go on a dive for cropped jumper patterns, let me leave you with the above jumper that I did 100% consider trying to replicate. How insane would that be! but with all the, what looks like intarsia, and different textured yarn, I think it would take me too long. but maybe one day!
Anyhow, that's what's been swirling round my brain at the moment while I wait to get started on the inside of the dye shed.
I have made a wee pinterest board over on well pinterest. If you are that way inclined go give me a follow over there. I adore pinterest.